10 ways to achieve something worthwhile with your life
Sometimes we just feel dissatisfied with who we are and what we've done so far in our lives. Do you long to achieve something – anything – but you can't think what?
If we don't like the way our lives are going, we can break the mould. It's time to develop our sense of achievement and harness our skills and experience to do something amazing.
Here are some ideas…
1. Create something special
Have you ever made something beautiful, unique and special, using your creativity? If you enjoy crafts, you could make something with your own hands, like a stunning handmade quilt or wooden sailing ship: the sort of thing which will become a family heirloom for generations. If you're better with words, maybe you could write a book or start a blog about your special interest. If you're more practical, you could use your creativity to invent a useful device which will be appreciated by many people.
2. Learn something new
Have you ever regretted not taking your education as far as you could have? You could go to night classes at a local college, or take an online degree through the Open University. If you're unhappy with your job, you could retrain for a new career. If your life is dull, you could take a course just for fun, in a subject to spark your enthusiasm. You could learn a new language and plan a visit to that country, take a first aid qualification or learn a musical instrument that you've always wanted to play.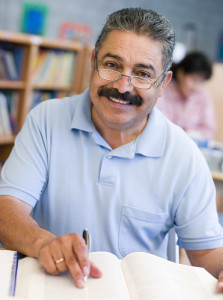 3. Work for your community
You may think you're nothing special, but actually you have lots of abilities, knowledge and experience which could be of help to someone. Helping your community through volunteer work can be hugely satisfying and give you a real feeling that you've achieved something worth doing. You could take part in a restoration project such as a steam railway or historic building, clear dangerous wasteland for a community play area, campaign for a local amenity or run a children's holiday scheme.
4. Give yourself a challenge
If you feel life doesn't offer you enough challenge, why not set your own? My sister Lucy did just that when she turned 49 – she set herself 50 challenges to be completed by her 50th birthday, each featuring the number 50. Some are crazy, some are worthwhile and others are.. well… challenging.
5. Save the planet
You may not be a superhero, but you can still save the planet – well, a bit of it, anyway. We're all becoming more aware of ecological issues, but there's still work to do to stop our planet being ruined by problems such as pollution, deforestation, and over-fishing.  One thing which matters to me is the destruction of ancient woodlands and hedgerows – they take centuries to grow, but can be destroyed in a day, making thousands of animals suddenly homeless and leaving our beautiful British countryside less lovely. Pick something which is important to you, and do something to help make it better.
6. Get that promotion at work
If you've been passed over at work, or you've never really tried to get promoted, maybe now's the time to give it your best shot. Make an appointment with your boss to discuss your future, and ask for their guidance. Ask your partner to give you their honest opinion of your chances. Dress well, be professional, network like crazy, never complain or pass on gossip and be a warm, likeable person who does a great job. Once you've become someone who's worth promoting, if you still aren't successful, maybe another company will appreciate you more, or perhaps going it alone as a freelancer would be something to consider.
7. Support a good cause
There are lots of charities out there doing great things, but they need funds to keep going. Why not challenge yourself to raise a large sum for your favourite charity, then plan lots of interesting and imaginative activities to reach your target? Get your family, friends and local businesses involved too.
8. Win a prize
We may be too late to train for the Olympics, but there are plenty of interesting ways to win prizes left for us to try. Challenge yourself to win a prize in the next year – whether it's a competition at a nearby supermarket, a short story competition in your local newspaper or a chance to appear on a TV game show.
9. Take on a responsible post
You don't need to run for government to take on a post of responsibility. Your country needs YOU! There's always a demand for capable, reliable volunteers to organise events, be Scout leaders, run charity shops, help homeless people, become secretary for a club or offer care for the elderly, and in return you'll get a life filled with variety and interest as well as a sense of achievement.
10. See the world
You may have had some foreign holidays, but did you ever get to see how the real people live, or did you spend your time by the pool and visiting tourist attractions? Think outside the box, and plan to visit non-tourist areas and off-the-beaten-track places. Or plan that once-in-a-lifetime trip you've always dreamed of, but this time, make it happen.
Whatever you choose to do, there's no reason why you can't achieve something special, so don't give up until you succeed.
You can do it!