Breaking bad habits: do it because they said you couldn't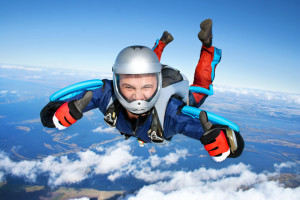 As I find my way through life, I've realized that the issues we experience are not here to ruin us, but to show us that we can go beyond our borders and discover even more pleasure.
Couple of years ago, I went through one of the most difficult periods in my life, since my marriage reached the point where it was clear that divorce was the only reasonable solution. The whole process ended fast, and before I even realized it, I became a single father with two young sons.
I felt I was lost in a huge lack of self-confidence and a feeling of confusion. Since my sons were pretty young, I never expected that their positive mindset and attitude would actually wake me up and completely refresh my life, but that's what happened.
Cigarettes – my quiet way to commit suicide
I was a passionate smoker for years, and the stressful period during and after divorce led to chain smoking, so I would end every day with at least two packs of cigarettes. Now I realize that profuse smoking was some kind of comfort; a way for me to feel better.
My kids noticed that I had started to cough, and the only time when I wasn't smoking was when I was asleep.
I realized that their time with me was always filled with smoke, so for the first time, I started thinking about leaving cigarettes. I am convinced that I wouldn't have been able to quit smoking without their support, because they suggested that every time when I want to light a cigarette, we should start some funny game or go outside. Their deep striving to make me a non-smoker was great motivation for me to find literature that helped me quit that bad habit.
I'll have to disappoint you, but there was no secret when quitting smoking. I got sick and I could barely breathe for a week. In that period I couldn't smoke because I probably would have suffocated. After it was all over, on the eighth day, I reached for a pack of cigarettes, but instead of that I asked myself a question: I've endured 7 days without cigarettes, do I really need one? It turned out that I didn't, and haven't to this very day. I believe God sent me illness to heal me from my vice.
Reaching out for support
One of the things I had to admit is that there was no way for me to go through this alone, no matter how dedicated I was at first.
Yes, at first you are full of enthusiasm, firm, and stand strong in your life-changing decisions; but as time passes, you learn there are periods when you just need somebody to talk to.
So I found myself an unconventional support group. It consisted of my sons and a couple of my oldest friends who were always there for me. One of them went through something similar several years back and I was happy to have someone to share my thoughts with, and I knew they would always be there for me.
At first, it was hard for me to talk about my problems with anyone. At the time I started I was still trying "to run and hide", but after I'd heard other stories, I realized that the things that bothered me were minor compared to their problems.
Back to a fit body again
Being alone with kids is a situation when you always have to create something different and funny to keep them entertained, but also to provide them with an opportunity to learn something and have healthy development.
I definitely wanted my sons to have a healthy and happy childhood, and the moment when I became a single father determined me as their leading role model, so I had to implement certain changes into my lifestyle.
I decided that the only way for me to be around them more and be a proper father was to lose weight and spend more quality time together; I wanted to be someone they could look up to.
My sons are nature lovers, so we would bring our tents and head for the nearby park to spend the night joking, telling stories and exploring the wildlife which reminded me how much I enjoy nature too. We decided to make our mornings more fun and started jogging and riding bikes, and all these resulted in my great weight loss and self-confidence recovery.
Switching to healthy nutrition
Lack of self-confidence mixed with guilt reflected even in my nutrition; I ate only processed and fast food. Of course, I didn't want my kids to do this to themselves one day, and the moment they told me that I should eat healthily so I could feel better was a milestone in my nutrition habits.
I was pretty inspired and touched by their gentle approach and genuine worry, so I reduced fat food and decided to research about wholefoods online. I turned it all into a game and another way to spend quality time together: we started preparing our meals using fresh veggies, fruits, light meat, and fish.
During one visit to the shopping mall, we bought a juicer for our own healthy beverage made of 1 lemon, 1 grapefruit and 2 oranges. Cooking together was another way for us to bond, and it helped me keep my weight under control.
In addition, I completely stopped eating bread – the problem was that I thought I couldn't feel full if I didn't stuff myself with half a loaf of bread, but I was wrong. After I rediscovered spinach, Swiss chard, and rice, I didn't need to eat bread.
Changing perspective – literally
If anyone had told me that I would undertake some extraordinary ventures in my mid-age after the personal crises I went through, I wouldn't have believed that. With the great motivation and sincere care from my sons, I finally became a completely new person, open for amazing moments in life.
Hence, I decided to try parachute jumping, which I had always wanted to do, but I had never been determined enough. It was one of the best feelings in my life. Can you imagine thousands of cubic meters of freedom – and yourself as an arrow which sharply cuts the air?
All human problems seem so small when you're up there. My sons were my companions and greatest supporters, but I had to disappoint them a little, since I didn't allow them to jump with me, but I promised that I'll take them when they're older.
Do it because they said you couldn't
It can be hard to resist bad habits, especially if you live in an unhealthy environment, surrounded with people who, in fact, don't wish you to have a better life.
If you're lucky enough to have the support you need to make changes in your life, as I did, you'll find breaking bad habits much easier, but there's always a way out if you're strong enough.
If necessary, do it because they said you couldn't.
___
Daniel Rogers is an enthusiast when it comes to a healthy lifestyle and developing healthy habits. For years, he has been searching for ways to share his experience and knowledge with passionate people who feel the same way he does. You can follow Daniel on Facebook , or if you have any questions feel free to contact him by e-mail: danielrogers2107@gmail.com