Design a home office to boost your creativity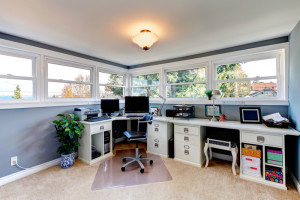 Ever felt your brain just won't work?
You're sitting in your home office, ready to do something creative, but the ideas just won't come.
Whether it's your hobby or your profession, there are times when creativity really matters. And, while creativity truly is a personal matter, there are universal ways to enhance it. This is especially true when it comes to providing an environment that inspires and improves your creativity.
Furthermore, working in a home office makes these work environment changes more possible and customizable since you can adapt the space in a manner that completely suits your needs, which is an opportunity you shouldn't miss. To do this successfully, here are some useful tips on how to design your home office in a way that will benefit your creative abilities at any time.
Colour
The colour of the space you are working in has a strong influence on how you feel and how productive and creative you will be. Which colour to use for your walls and ceiling depends on what line of work you are in.
Soft shades of blue are most suitable to create a calm and peaceful atmosphere, perfect for writing or composing, for example.
On the other hand, all shades of red boost dynamics, green and purple are general creativity boosters while white adds spaciousness to your office and enhances a sense of freedom.
Therefore, opt for a colour combination which best suits your personality and work that you do, both of them being equally important for a successful colour choice.
Let there be light
Even though there are people who function perfectly well in darkened rooms with no air, the majority of us feel significantly more at home in open, well lit spaces. You need to let your imagination go in order to be creative and there is no better way to do this but making your office abundant in natural light.
Shapes that surround you are also important influences on creativity, especially round and symmetrical ones, so feel free to venture into that area. If you are having your home office purpose-built, you can play with window shapes; they do not all have to be square and uniform.
There is another bonus from having many windows, just by looking outside from time to time has proven to be both very inspiring and concentration improving, all being important components of the creativity process.
On the other hand, if your working hours are such that you do not have too much daylight available, by all means install dimmable lighting. This will enable you to find the exact measure of light that suits your preferences.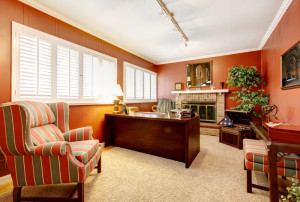 Declutter
Your office needs to mimic your thoughts in their creative peak: organized, functional and with enough room to develop any new idea that comes to mind.
Old, unused or rarely used items have no place in your working environment, just like ideas of the same nature. Therefore, make decluttering a regular activity and think of it as clearing your mind before starting any major work, setting the environment and your thoughts in creativity mood, a perfect order providing room for anything new and inspiring.
Green up
Returning to nature is a sure creative win. Since this is a home office we are discussing here, you will have to introduce nature into your four-walled world. Play with colours and plant shapes and green up your office.
Interior green walls, such as Elmich garden walls, are composed of structural panels containing real plants. These prove to be very effective in achieving a nature-like atmosphere. Not only will their soothing green colour enhance your creativity, it will fill your office with additional shot of oxygen, a necessity for all clear thinking. If your space breathes, so will your thoughts.
Personalize
Even though this is a home office, giving it your additional personal touch is a great way to boost creativity. Display your favourite works of art; let them inspire you in creating something similar. We are not talking about copying someone else's work, of course, just getting you in a creative mood that could produce such kind of artwork. Remember, this has to be personal, no one can tell you which works of art to display, and you need to feel them yourself.
A nook
If the space allows, create a private nook, a place where you could read or listen to music during a break. This does not have to be anything big, a comfortable armchair facing a window and a set of good earphones. Let your thoughts wander or rest for awhile, regenerate and get ready for new challenges.
Rearrange
A change of environment is often enough for our creativity to strive. This does not need to be anything drastic or complicated, just change the position of your furniture from time to time, replace old or add new works of art, By change the perspective of things you enable your creativity to change perspective as well. After all, creativity is a kind of a game where fixed rules do not always apply, so play one of your own.
On a final note, all these activities need to be highly personalized. Know and indulge yourself, no one can do it for you. Things that inspire you the most are always a part of your nature, recognize and implement them into your home office setting and you are on the right path.