Dodo Diary February 2016: Self-Improvement Challenge, Month #12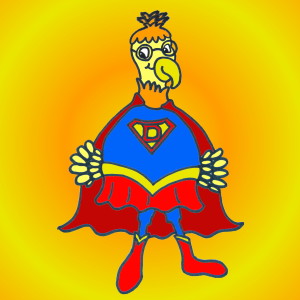 One year ago, I took the first step in changing my life.
I was overworked, desperate for money, hugely stressed and in despair. My personal relationships were falling apart, I had no opportunities for self-expression, my health was suffering and I had nothing to look forward to.
I felt as if everything I tried was doomed to failure.
So I decided to give myself a self-improvement challenge: I would attack my problems all together, over the course of a year, and aim to go From Dodo to Dynamite in a Year.
That year is up, and now it's time to take stock.
So – how did I get on?
I had hoped to reach all my targets. But no one's perfect, and although I've had some successes along the way, I must admit – I didn't manage to achieve everything I set out to do.
In the past, I would have thrown up my hands and said, "What's the point of even trying?"
But one thing I've learned is that if you let yourself give up, you won't get anywhere.
It's been a very, very hard year. I've had a lot of difficult problems to deal with (including, this month, spending a couple of weeks sleeping on a chair by my partner's hospital bed, wondering if he'd survive a serious operation). But I've got through it, and I've made a lot of progress this year in the things that really matter to me.
More importantly, my attitude to life has changed.
For the first time in years, I'm actually happy. I feel stronger and more able to cope with life.
So I won't see my results as failures: every target I didn't reach still has a partial success, and I'm going to celebrate these as such, and do one important thing I didn't do before.
I'm going to keep going.
What does it matter if I take two years to get there instead of one?
It only matters that I succeed in the end.
So I'll rethink my strategy and give myself another year – and this time, I'll reach all my targets.
Dodo to Dynamite End of Year Progress Report
Weight: Lose 40lbs. PART-SUCCESS. I managed to lose 15lbs. Not as good as I'd hoped, but I was never going to lose all my excess weight in a year. I'm going to keep going.
New Target: Weight: Lose another 45lbs (total 60lbs).
Smoking: Quit. SUCCESS! Yes – I've done it! I've finally managed to get free of my nicotine addition, and it feels great. Money saved so far: £984.40 – and that's just the start of it.
New Target: Exercise: Take a daily walk and use exercise bike every day. 
Self-Control: Beat addictions to sugar and caffeine. PART-SUCCESS. I've learned to control my sugar addiction, and this month I tried drinking alternate glasses of water and Diet Coke, instead of only drinking cola. Can't say I enjoyed it, but I did it!
New Target: Self-Control: Continue to control all my addictions (smoking, sugar and caffeine).
Hoarding: Clear whole house. SUCCESS! We've gone through the whole house, and although a few bits are still lurking in the loft, it's much tidier and more manageable. The mess has gone!
New Target: Organisation: Tidy my home office and work area every week.
Relationships: Rebuild relationships with partner and family. PART-SUCCESS. This is still something I need to make more effort with, so I'm carrying it on to next year. Although my relationship with my partner is stronger, thanks to his hospital stay, I missed out on seeing my son and having my grandson to stay, which was disappointing as I see so little of their family. Once my partner's feeling better, I'll try to make up for that.
New Target: Relationships: Improve relationships with partner and family.
Success: Build Ebay business/increase income. PART-SUCCESS. By cutting my outgoings (notably on cigarettes) I won't need to earn as much next year, so I'll be looking into other ways of earning money, while continuing with Ebay.
New Target: Income: Earn enough to live on.
Writing: Refocus blog and add a new blog post every week. PART-SUCCESS. I'm going to be much more serious about making time to be a writer this year, so I've set myself three new writing targets.
New Target: Emily the Dodo: Add 3 new posts every month.
New Target: Blogging: Write 2 posts for other blogs every month.
New Target: Other Writing: Write 2000 words.
Friends: Make 3 new friends. I cancelled this target last month, as I realised it was wrong for me. I felt it was not what I wanted, and it seemed artificial and rather insulting to my future friends, treating them as a self-improvement target instead of real people with feelings. In its place this year, I'll have a target which may well find me some friends, but more importantly, will make me a friend worth having.
New Target: Enrich my life: Have interesting new experiences.
A new year of self-improvement is beginning. Follow the Dodo-shaped blur!