Dodo Diary July 2015: Self-improvement challenge, Month #5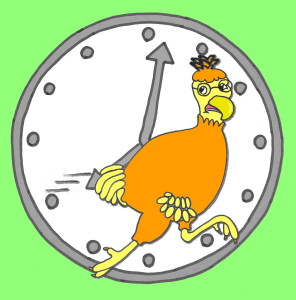 The fifth month of my Dodo to Dynamite in a Year self-improvement challenge… and I'm failing.
The last few months have been disappointing in terms of progress, and I feel as if I'm juggling too many balls at once. And I must admit, I've dropped quite a few!
So I've had a good chat with my closest family members, talked about the targets I'm trying to achieve and asked them to support me with a mixture of moral support and tough love. Talking it through has helped me come up with a few new strategies to make me stick to my plans.
And, as you've probably spotted, I've added a great motivational tool on Emily the Dodo this month – a countdown clock to show how long I've got left of my year.
If that doesn't get me going again, nothing will. And it's all too clear that time is running out. Eek! Time to redouble my efforts!
Dodo to Dynamite in a Year Progress Report
Weight: Lose 40lbs.  Disaster! I've actually gained 1lb in weight this month – total weight loss so far 20lbs. It's partly because I've hurt my knee and can't do much exercise, and partly eating too much.
Smoking: Quit. Yes! I've done it! I am now a non-smoker. Money saved so far: £242.55. Now I just have to stop being obnoxious to everyone…
Self-Control: Beat addictions to sugar and caffeine. Definitely not ready to cut down on caffeine until I'm coping better with not smoking!
Hoarding: Clear whole house. Now this is doing quite well. I seem to have spent half this month lifting boxes in and out of the car. We have three rooms completely cleared of all items we won't be taking to our new home, and another two looking better.
Relationships: Rebuild relationships with partner and family. I've visited a couple of family members I haven't seen for months… but I still haven't found time to phone my Mum!
Success: Build Ebay business/increase income. I've created a new plan to increase my income, and I'll be putting it into action next month.
Writing: Refocus blog and add a new blog post every week. One of my long-term faults is indecisiveness, and it's holding me back here. I've missed a few weekly posts due to shortage of time; although I've made notes I just couldn't seem to get on and finish the blog posts. More effort required, sorry.
Friends: Make 3 new friends. Due to all my other commitments, I had to miss my meetings with my new writing buddies in July, but I'll be back next month.
Next month, I'll be researching ways to overcome indecision, getting back in touch with more friends and family and most of all – losing weight, I hope, although I have a birthday coming up, which has been known to involve chocolate cake!
Do you have difficulty making decisions? Found any good strategies to help with the decision-making process? Leave me a comment!