Dodo Diary March 2015: Self-improvement challenge, Month #1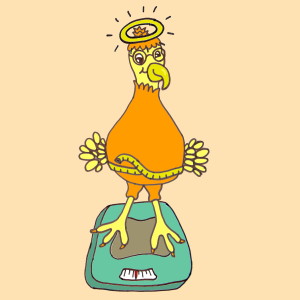 The first month of my From Dodo to Dynamite in a Year self-improvement challenge is over. So how did I get on?
I decided the first step was to control my eating. It takes a long time to lose weight, and I usually give up on diets after a few weeks. But this time I faced the reason.
Chocolate.
I just can't resist it. I enjoy chocolate the way I enjoy breathing. And once I've had some, goodbye diet – I just eat and eat and eat. If I don't have any, I devour cakes and biscuits by the packet instead.
And I realised it was more than just a preference for sweet things – I have a sugar addiction. I looked for advice online – that was a lot of help! "You'll soon get used to enjoying fruit instead."
But the thought of giving up sweet foods forever made me want to drown myself in a barrel of golden syrup. And it wasn't practical. I needed to control my eating, not give up pleasure unnecessarily. If I didn't include chocolate in my diet, I'd eat it anyway. And if I included it, I'd immediately eat anything sweet that wasn't nailed down until I collapsed in a groaning heap of flab.
This month, I found the solution to my sugar addiction.
And if you're a sugar addict like me, you'll be glad to hear it included lots of Cadbury's Creme Eggs…
My diet plan included one slice of toast, one sandwich for lunch and a not-too-greedy normal-sized cooked meal.
I kept fruit in the house, and if I got the nibbles for something sweet during the day, I'd have a piece of fruit. But every night, just before I went to bed, I'd reward myself with just one chocolate treat, maximum 200 calories.
And it's working!
This month, I've resisted a stall of home-made cakes, and a cupboard with packets of biscuits, and a visit to someone who'd just made some yummy cakes. And it was easy. If I'd really wanted a cake, I told myself I could have one – but I'd have to take it home and have it for my bedtime treat.
I also took photos and made a daily chart to remind myself of all my targets.
Dodo to Dynamite in a Year Progress Report
Weight: Lose 40lbs. I've lost 10lbs already!
Smoking: Quit. I haven't tried yet.
Self-Control: Beat addictions to sugar and caffeine. I've started beating my sugar addiction.
Hoarding: Clear whole house. I've started sorting job lots to sell.
Relationships: Rebuild relationships with partner and family. Not enough effort. This month has been too much about me.
Success: Build Ebay business/increase income. I decided to list only more expensive items and take the cheaper things to boot sales through the summer. Up at 4.30am on Saturday, loaded the car, drove there – rained off. But I tried.
Writing: Refocus blog and add a new blog post every week. I've moved most of the irrelevant blog posts onto another blog (www.emilylock.com) and reorganised Emily the Dodo with more focus on self-improvement. And I've kept up to date with my weekly blog posts.
Friends: Make 3 new friends. I haven't tried yet.
Next month, I'll work harder at clearing the house and building my business.
Wish me luck!