Dodo Diary May 2015: Self-improvement challenge, Month #3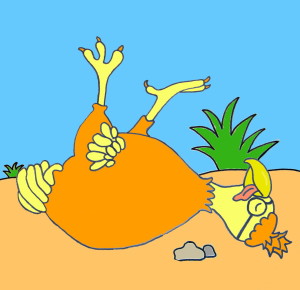 Well, I'm still trying. But the third month of my Dodo to Dynamite in a Year self-improvement challenge has been somewhat fraught, to say the very least. We've had a lot of family problems to help sort out, and it's not been easy.
I've been so busy that I let my eating plan slip, and it's hard to find the energy to care about myself when I'm so worried about other people. I also had a shunt in my car, and had to sort out the claim.
Hmm… "I had to sort out car insurance, so I needed to eat an entire packet of Oreo cookies." – does that sound convincing? I thought not. OK, no more excuses! I'll be fighting back against the inertia next month – thank goodness I have another nine months to achieve it all!
Dodo to Dynamite in a Year Progress Report
Weight: Lose 40lbs.  Despite not concentrating on my eating plan, I've lost another 3lbs this month – total weight loss so far 19lbs.
Smoking: Quit. I tried. For about ten minutes. Then I thought, 'No, I'm not ready for this.'
Self-Control: Beat addictions to sugar and caffeine. Not too bad, but I haven't been watching it too closely.
Hoarding: Clear whole house. I've done some, but it's been a busy month – I certainly haven't achieved one-twelfth of all that needs to be done.
Relationships: Rebuild relationships with partner and family. This month has been very family-focused and I've managed to visit my partner's family a couple of times and spoken to them on the phone. I also had some wonderful news – I'll be a grandmother again in October. It'll be a boy, I'm told, although the scan looks more like a baby dinosaur!
Success: Build Ebay business/increase income. Groan! Thanks to my beloved car insurance company dragging its feet, I haven't done many boot sales. Still working on this.
Writing: Refocus blog and add a new blog post every week. I've finished refocusing Emily the Dodo now (if you'd like to read the stuff I moved, take a look at my secret blog: Story of My Life.) I was asked to answer a question on Quora, basically asking, 'What advice would experienced bloggers give to new bloggers?' How flattering – I'm still a 7-months-in newbie myself! Luckily, superblogger Mark Manson had already answered it – and I found a lot of helpful stuff in his reply.
Friends: Make 3 new friends. I've found a couple of clubs I'd like to join, and signed up for some Meetups in my area – I'll try them out next month.
Next month, I'll be getting back on track with all the things I've already started – no excuses – and I'll make more effort to earn a decent income.
How are your self-improvement efforts going? What targets are you aiming for? What do you find hardest to stick to? Leave me a comment!