Goal-setting: from zombie shuffle to superhero zoom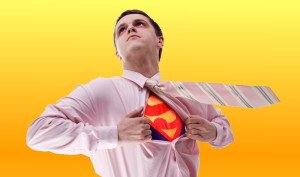 Bother! The zombies are here already.
I'm selling stuff at a boot sale, you see.
And it's only half past ten. Far too early for us to pack up and go home, but no one's making any sales. Because the zombies have arrived.
The standard is pretty high today, and the stalls around us are crammed with good stuff: clothing, housewares, furniture, toys… but already the buyers are shuffling along in zombie mode, their glazed eyes fixed on a point in the distance.
They've hurried round once, so now the buyers think they've seen everything on offer. They're just going back for another look – only this time, they aren't really looking.
If you grabbed one of them by the arm, stuck a microphone in their face and asked, "So, tell me – what would you be excited to find today?" most of them wouldn't have an answer.
They don't really know what they want. So how will they know if they've found it?
When I leave our stall to look around, I have a mental list of what I'm looking for. Today, I'm searching for a fitted double sheet, some Hawaiian stuff for my sister's party, sticky tape, baby toys and books.  So I can power-walk along, superhero-style, eyes quickly scanning each stall, searching for these particular items as I zoom along past the zombies. It doesn't stop me spotting other great bargains; in fact, I'm more likely to spot them, because I'm alert and expecting to find something I want.
Does goal-setting make a difference to achievement?
Sure, we could wander through life staring forward like zombies, missing out on the opportunities and pleasures around us in the quest for an indefinable 'something better' in the distance. But the chances are, we're more likely to achieve the things we want if we focus on specific goals.
However, it's no good setting goals unless we're ready to put in the effort – to make changes to our lives in order to achieve them.
Obvious, you say?
Did you make any New Year Resolutions last year – and did you keep them all? When you set yourself a target such as 'give up smoking' or 'jog three mornings a week' have you stuck to it since then, or has your self-improvement effort fallen by the wayside?
It's worth taking time to think through our lives as a whole and considering why we set ourselves goals we can't stick to, and which factors impact on our ability to achieve them. Are we setting ourselves up for failure by making our goals unreachable, or losing out on potential achievement by making the targets too easy?
Making goals measurable is important, so we know whether we've achieved them or not. For example, a vague goal such as 'take more exercise' could be achieved by walking a few extra steps, but it wouldn't be a meaningful achievement. Setting a target such as 'exercise for half an hour every day' would be measurable – at the end of each day, we'd know if we'd achieved it or not.
Setting interim targets – and rewards – can keep us motivated towards our long-term goals. And finding people to support us in our efforts can make all the difference.
We need to consider our lives holistically, instead of focusing only on one particular aspect  – if we develop our social life, will that be at the expense of our study ambitions, for instance? What will our new fitness plan cost financially? By balancing benefits with outlays, we can build a realistic picture of whether our planned changes will actually improve our lives, and deal with problems proactively.
I'm doing this in my Dodo to Dynamite in a Year self-improvement plan – why not join me?