Perfume: the sweet smell of… delusion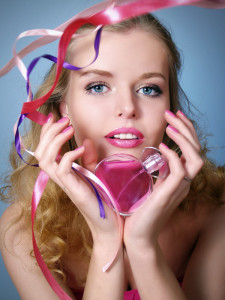 It can make you an irresistible object of desire, a cute, flirty tease or a macho man about town.  It can add adventure to your boring life and make you the sexiest thing on two legs. It can bring you true love with a gorgeous partner, make you brave and elegant and…
Yes, the Christmas Perfume Push is reaching its feverish climax once again.
If we believe all the TV adverts, we'd think that just pulling out our credit cards and buying their mass-produced product will make us stand out from the crowd as an amazing, stylish individual. Oh, really. What – all of us?
Absolutely. You might be an overweight, ugly, tedious bore from Basildon whose most exciting achievement this year was getting your company's tax return in on time, but one squirt of that stuff and you'll be partying with the beautiful people.
Who do they think they're kidding? Oh, yes – us.
They mash up some flowers with exotic names, mix it with ethanol and a few other glamorous ingredients like odorous sacs from a beaver or petrified rock hyrax excrement and give it an enticing brand name.
Then they lob about 6 teaspoonsful of this crap into a pretty bottle and charge us £40 for it – enough to give ten children back their sight.
Are we really the mugs they think we are? Let's have some sense instead of scents this year!