That Perfect Moment: Finding Where You Really Want to Be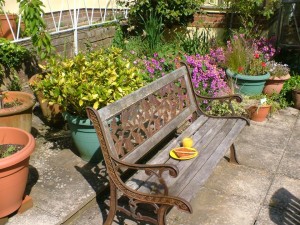 A moment frozen in time.
A sunny garden on the Isle of Wight, with a glass of fresh orange juice and a plate of toast and Marmite.
Alone, in a place of utter peace.
With the wash of the sea in the distance, birds singing, pears ripening fatly on the trees and gentle flower scents wafting on a warm breeze. An elderly ginger cat ambling around the flower-beds and a red squirrel climbing cautiously along the fence to investigate some nuts on the bird-table.
Perfect.
Maybe your perfect moment is different. Maybe it isn't peace and solitude – perhaps you're celebrating at a happy family gathering, or sipping tequilas on a palm-fringed beach with friends, or looking out at a crowded auditorium, finishing the best speech of your life, as the audience erupts in applause.
But we can't always stay in those perfect moments. Life has a way of intruding. We have families, jobs, friends, responsibilities – and life won't just be ignored while we sit around drinking orange juice in sunny gardens.
So… I went home to the mainland.
And I tidied up my garden and planted some flowers. And I sat out there on a sunny day with a glass of orange juice. It was – not bad at all. Well, quite pleasant. But it wasn't the same.
My responsibilities came pushing into my mind and wouldn't be set aside: I shouldn't be sitting here; I should be in my office, getting on with my work; I need to sort out something for dinner tonight; That shed needs repairing; I really ought to do some housework.
Instead of birds and the sea, I heard the noise of the traffic, passers-by talking and shouting and the crash of boxes being unloaded outside our corner shop.
It was OK. It just wasn't what I wanted.
Life is filled with times like that – times when it's not bad at all. And times when it's, well, quite pleasant.
That's why, when you get to a place where, just for once, absolutely every single thing is perfect, it's a memory to treasure.
And now I know the place where I really want to be, I'm going to make it happen. I'm going to make a living online, so I can live anywhere. (And I'm going to learn to look after plants so they don't go all brown and drooping after two weeks!)
And then I'm going to sell my house and move to the Isle of Wight and find my own sunny garden near the sea. I'm going to find it all. Birds, squirrel, cat, toast, orange juice – everything. I'm going to make a plan, and make it happen.
And, right now, I'll start working for what I want, instead of putting up with what I don't want.
And until then?
I will hold that perfect moment in my heart forever – it's the place I want to be.
So now it's your turn. What is the place you want to be – and how are you going to get there?